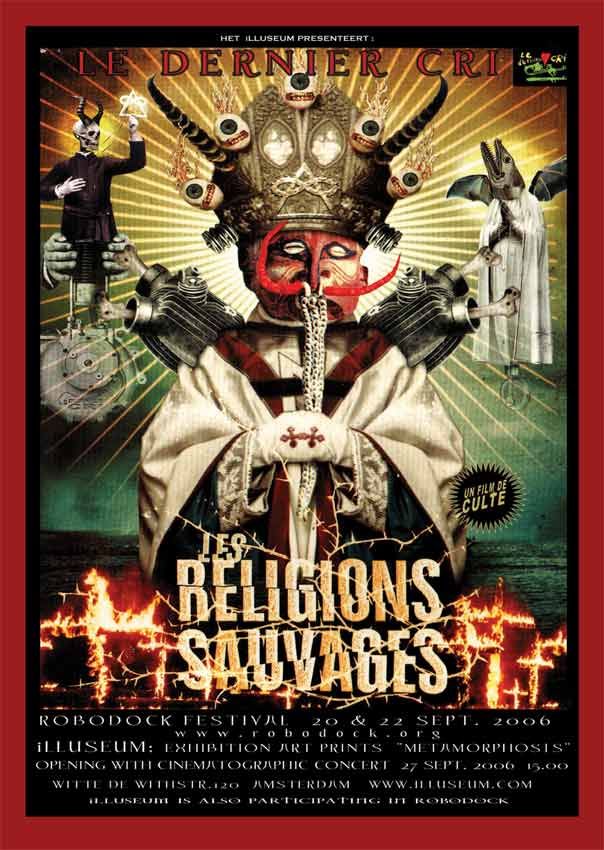 Title
– Les Religions Sauvages
Runtime:
121 min (+ 31 minute bonus)
Language:
French
Country:
France
Color:
Color
Director:
Le Dernier Cri
-----------------------------------------
1.70 GB
DVD1 : H264 (AVI) 1377 Kbps : 592x432 : 25fps
DVD2 : H264 (AVI) 1602 Kbps : 640x464 : 25fps
Stereo audio in AC3 : 128kbps
2 part in .rar format
Description:
Le Dernier Cri is a Marseille-based underground publisher, specialized in graphic design, comics and silkscreen. Pakito Bolino and Caroline Sury produces beautiful, intense, often disturbing limited-edition books, prints, and animations, drawing on underground comics and 'art brut' outsider artists, and emerging out of the Paris punk scene of the 80s and 90s.
A series of ultra-trashy short animated films created by 30 artists, Les Religions Sauvages (their 3rd DVD indeed) "devours the rotting meat of our civilisation, regurgitating it in a relentless bombardment of imagery," which will, according to its creators, "purge, cleanse and purify our jaded, pornographic imaginations."
Rar Password: www.surrealmoviez.info